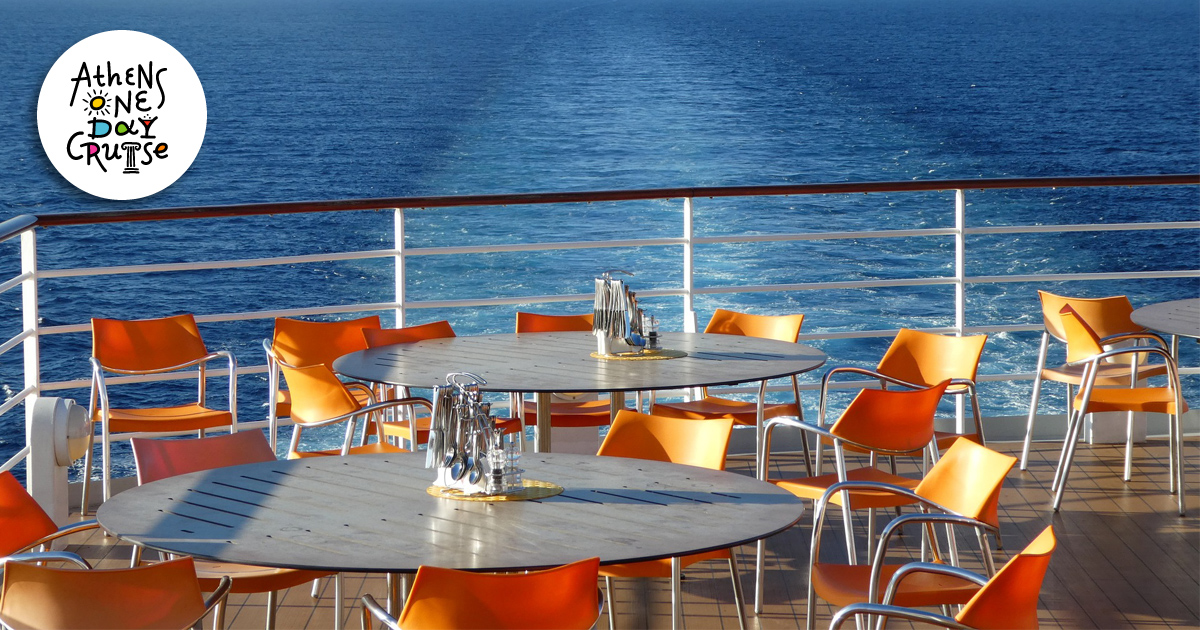 How time passes on the cruise ship
It is true that a cruise is not pleasant for everyone. Some enjoy the hours they spend on a cruise ship. But some others look forward to arrive at a port!
Choosing a One Day Cruise's cruise is the only sure thing that you will not get bored for a minute.
Decks & activities on the cruise ship

You can wander around the deck of the ship throughout the cruise.
2nd deck

Starting in the morning from the middle level, enjoy a rich breakfast. Try new flavors, your favorite coffee or a cocktail later during the return. In the same place you will be able to connect to the internet if you want to deal with your mobile phone, tablet or laptop.
On the 2nd deck, you have the opportunity to spend a lot of time doing your tax-free shopping at the ship's store. You can choose between bags, jewelry and accessories for you or your loved ones. On the main deck you will also find a wide variety of local, traditional products from the Saronic islands that you will visit. Such as pistachios, herbs, tea and handmade soaps.
3rd deck

When you have finished your shopping, you can go up to the last deck. There just enjoy the sun and the sea. Accompany the relaxation with a coffee or a cocktail from the bar and your good company, while the ship will be directed to one of its destinations.
You will return to the same deck in the afternoon. Just before sunset in the summer months we gather for dancing and fun with the live cruise ship orchestra.
1st deck

Finally, you will definitely go through the lower level where the main dining room is located, where a rich lunch is served.
The good thing about the one-day cruise in the Saronic Gulf is that the transitions from one island to another do not take long. So the time on the cruise ship passes quickly and you do not get bored! Each trip is like a separate, short trip that gives this coveted feeling that you are going on a boat vacation to a distant island. Even if you are just a little away from Athens!
Tags: One Day Cruise, ship, shipdeck