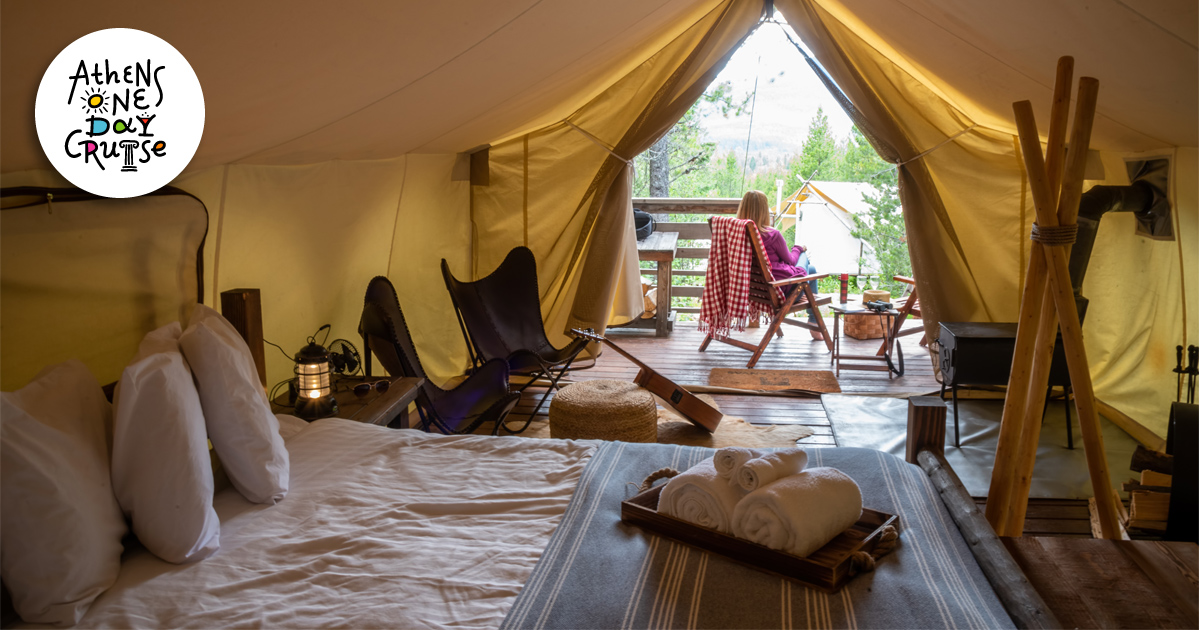 Glamping in the Saronic Gulf
Glamping is a new travel trend and it is essentially the marriage of the classic campsite with staying in a luxury room. One wonders how one can camp and at the same time enjoy the comforts of a luxury hotel room. What unites glamping with camping is the scene. Only glamping includes luxury tents with regular hotel furniture.
The word glamping essentially means "luxury stay in nature" and is entirely possible
Those who choose today "luxury stay in nature" indulge in their favorite daily activities in nature. But at the end of the day they return to their luxurious tent with their comfortable bed to enjoy gourmet meals under the moonlight.
Glamping can be done in a tree house, in a tent, in an inflatable tent, in an igloo type tent, in a sanctuary on a mountain slope, in anything original and innovative, to experience the most beautiful holiday experience.
In fact, glamping has been included in the tourism bill since last year. Specifically described as the experience of luxury accommodation in nature, in tourist accommodation in the countryside erected in off-plan areas and include different types of accommodation in structures gently harmonized with the natural environment, combining high aesthetics with the provision of upgraded services.
Glamping in Greece
You can also do glamping in Greece, in places like:
Halkidiki,
Lemnos,
Nea Moudania,
Agia Anna in Evia and
Poros.
ODYSSEY ECO GLAMPING, POROS
One of the most beautiful "accommodations" to glamp in Greece is located in Galatas, Poros. It has ten scenes decorated with taste and respect for nature and Greek traditions.
In this place you will sleep under the shade of trees, just a few meters from the sea. The tents at Odyssey Eco Glamping are among olive, lemon and orange groves. They have double or twin beds with soft linen and linen, refrigerator, fan and clothes hanger and are equipped with electricity. The private bathrooms are a few meters from the tents and feature a shower and toilet. In each tent there is a private area at the front with two chairs, a sun lounger or a hammock.
In addition to your favorite holiday activities, Odyssey offers cooking, wine tasting, soap making, weaving, yoga, kayaking and more.
Tags: Poros, Glamping, Camping, Saronic Gulf, Odyssey