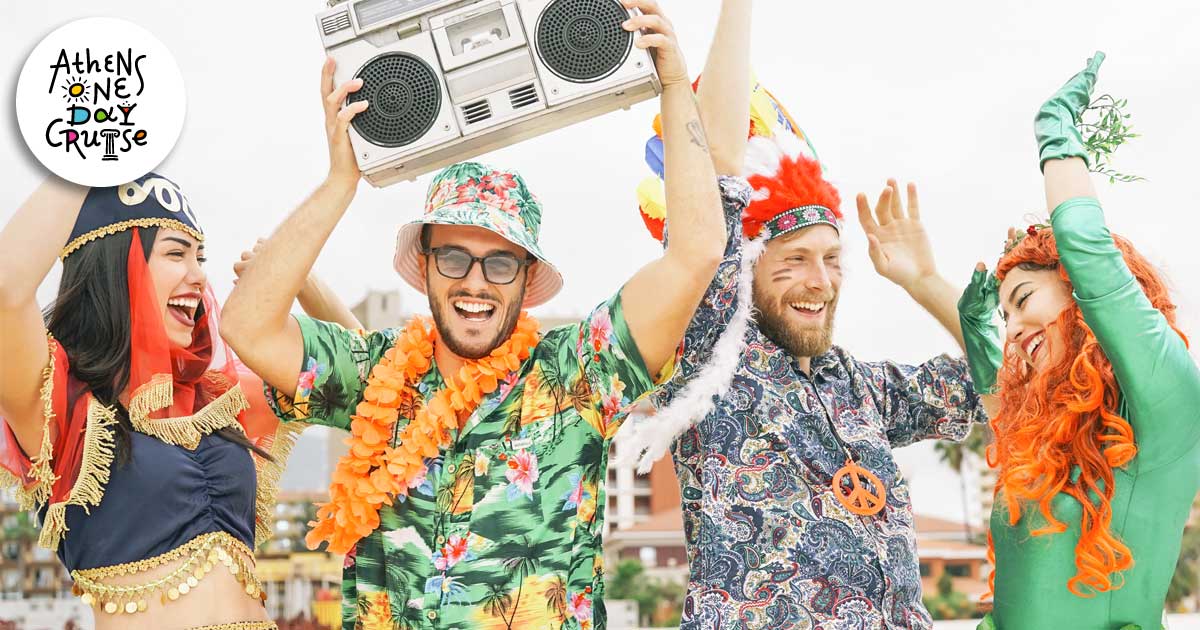 Carnival in Greece, in the pre-covid era
Although Brazil is the world queen of carnivals, our country has acquired a strong carnival tradition over the years. Covid has kept us away from the Carnival celebrations for the last two years. So, let us recall what happened on Carnival in Greece when everything was in normal rhythms.
Patras

Bad lies, on Halloween all roads lead to Patras. It is the first destination when we think of carnivals and Halloween to experience intense moments of fun. Rich spectacle, song and dance until the final drop in the parade and parallel events are what take place in Patras on the last weekend of Carnival. The Hidden Treasure Hunt, the Carnival of the Little Ones and the Bourboulia stand out. In the Bourboulia dance, men dressed formally choose a queen without knowing her. All participating women wear a black domino and a black mask. The carnival culminates with the Great Parade on Sunday and the burning of the Carnival in the port of Agios Nikolaos.
Northern Greece - Xanthi

The carnival of Xanthi is what stands out from all the carnivals of Northern Greece, as it is the largest. People from the surrounding cities arrive in Xanthi for the party in the Old Town. Traditional dances and carnival customs are revived culminating in the parade and cremation of the Tsar brought by refugees from Samakov in Eastern Thrace.

Southern Greece - Rethymnon

Crete responds with the now famous Rethymno carnival that is already a century old and is gaining more and more popularity. The carnival of Crete could not miss the abundant tsikoudia. Carnival parties, dances, chants and Cretan traditional music that starts from Agnostos Stratiotis square and continues with mantinades in all the commercial streets up to the coastal one. Rethymno enters the atmosphere of Carnival from the beginning of the Triodion. A few days later, the Municipal Choir of Rethymno, accompanied by music and carnival groups, revives the custom of Kantada in the Old Town. However, on Swan Thursday there is a big party in Rethymno. Carnival groups set up parties in various parts of the city. The night parade of the groups organizes concerts, spectacles and the big parade of groups and chariots. Finally, the Saturday before Carnival Sunday is preceded by the traditional children's parade.
Tags: carnival, Greek customs, fun