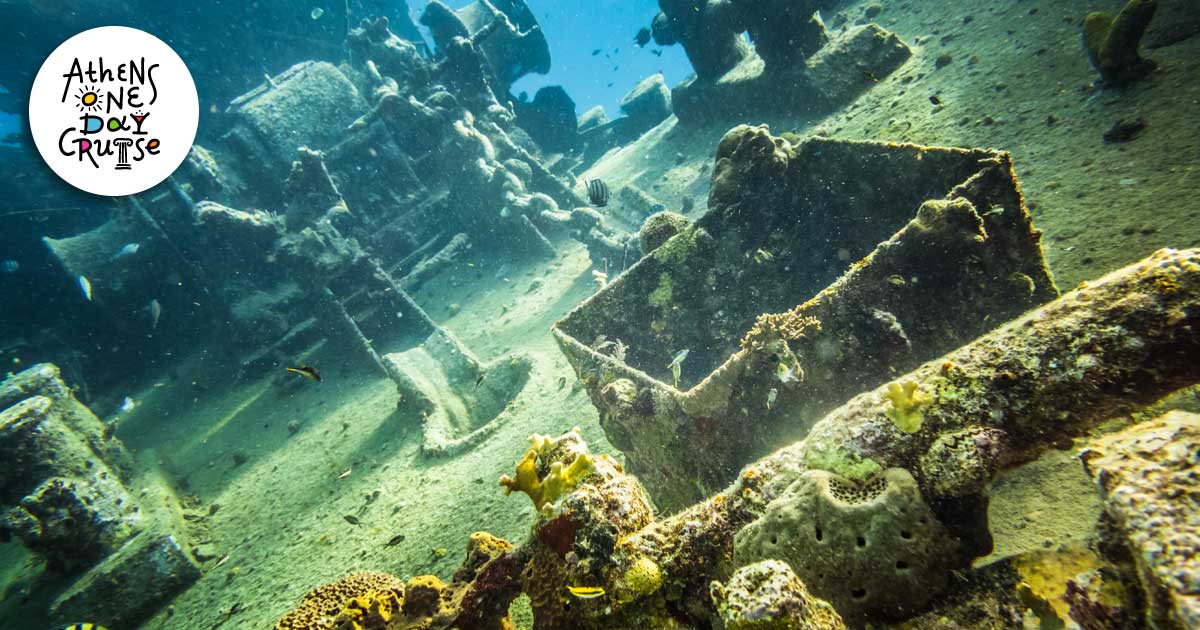 Shipwrecks in the Argosaronic Gulf (Part A)
The Saronic Sea and the coasts of the Argosaronic Islands are famous for their scenic beauty, while they are just a stone's throw from Athens. However, they also hide some... dark spots. No one can imagine that there are 54 shipwrecks scattered at the bottom of the Argosaronic Sea, which have been the subject of divers' research.
More specifically, officials of the Ministry of Shipping and scientists estimate that there are a total of over 400 shipwrecks in the Greek seas. The following are the most famous shipwrecks found today at the bottom of the Saronic Sea.

The oldest shipwreck in the world is located in Dokos of Argosaronicos and was discovered in 1975. Dokos is a barren island located between Ermioni, Hydra and Spetses. The findings of the shipwreck date from the 3rd BC. Millenium. The ship brought from Milos lamps, cooking utensils, millstones, obsidian blades - a black volcanic glass for making tools - and other items. It is believed that the wreck was caused by a storm when the ship tried to turn into the bay, but eventually sank.
"Alexander Z"

The sinking of "Alexander Z" was a real tragedy for the Hellenic Navy. It took place on March 10, 1923. The lifeboat in question was carrying licensed officers, petty officers and seamen to Keratsini. The ship lost its stability, i.e. its balance, due to dangerous waves that had arisen near Psytallia and the sudden movement of the 300 passengers from one side to the other. All this resulted in her sinking.
"Patris"

The former iron fishing vessel that had been built in France sank in June 1927 near Patroklos Island in the Saronic, after a collision with the steamship "Moshanthi". The then passenger steamer sank literally within two minutes, with ten people losing their lives. To this day, "Patris" stands submerged in an upright position. The large crack on the right side caused by the "Moshanthi" is also visible on the bottom and is the only crack on the wreck. Despite being at the bottom for almost a century, the ship shows no other signs of wear and tear.
"Oria"

The "Oria" was a German cargo ship whose sinking on February 12, 1944 marked the deadliest shipwreck in human history with 4,073 deaths. It sank in the Saronic Gulf, near the island of Patroklos. The ship had set off the day before it sank from Rhodes bound for Piraeus. She carried 4,046 Italian soldiers captured by the Germans, 50 German soldiers as guards and 5 Greeks as crew members. 12 Italians, 6 Germans and one Greek were saved.
Tags: Shipwreck, Dokos, ship, Argosaronikos, Argosaronic Gulf, history